Oasis Offers the Best Glass Protectants for Your Glass
Oasis glass treated with water-repellant coating is ussually reserved for our shower doors, but is now fast becoming a feature on outdoor (and even indoor) glass railings. Save cleaning time by choosing either of these revolutionary, long-term, non-stick coatings designed specifically to repel water and dirt. Protective coated glass repels stains and makes grime, dirt and water stains easier to clean, reducing cleaning time by up to 90%. Untreated glass appears smooth to the naked eye, but under a microscope it is actually textured, allowing dirt and water stains to adhere easily to the surface. Over time, glass can discolor and/or become etched from harsh cleaning chemicals. Oasis has long-term solutions to these problems by treating your glass with a glass protectant.
FEATURES & BENEFITS
Makes Cleaning A Breeze – a regular wipe over with a microfiber cloth is all it takes.
Reduces Cleaning Time – reduces cleaning time by up to 90%.
Superior Protection – against staining and etching from soap scum, hard water and lime scaling.
Long-term cleaning solution – permanently* bonds to the glass. Revitalizer products not required to maintain the coating.
Environmentally Friendly – eliminates the need for harsh chemical.

For clear and /or low-iron glass, Oasis recommends ShowerGuard®. ShowerGuard® permanently seals the surface of the glass for lasting beauty with less maintenance. Using patented ion-beam technology, an invisible protective coating is fused to the surface during manufacturing, filling the peaks and valleys that occur naturally in glass and creating a smooth surface highly resilient to the dirt, soap and hard water buildup that dulls and etches ordinary glass. This coating is embedded into the glass and is permanent, so it won't wear off or become less effective over time. For tougher stains, a soft sponge, common household cleaner and a water rinse is all it takes to keep your ShowerGuard® glass enclosure looking like the day it was installed.
WARRANTY
ShowerGuard® never breaks down and never needs to be reapplied. ShowerGuard® is backed by a robust lifetime limited warranty. Register your shower glass at: showerguardglass.com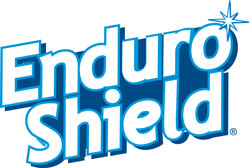 For Patterned glass Oasis recommends EnduroShield® protective coating. EnduroShield® is an ultra-thin, invisible glass coating that completely adheres to the surface and provides protection that will repel both water and oil based stains. Similar to a non-stick fry pan, cleaning is made easier using only water and a mild detergent or with a damp microfiber cloth. No more scrubbing with harsh toxic cleaners because EnduroShield makes cleaning a breeze. The superior protection also helps prevent the build-up of mold and harmful bacteria, promoting a germ free environment. EnduroShield Glass Coating can be applied to any Oasis glass style.
WARRANTY
Extensive testing has shown EnduroShield® to last beyond 10 years, enabling a genuine 10-year limited manufacturers warranty on all new glass surfaces. * Based on 10 years of simulated normal use and certified by TÜV Rheinland, Germany.