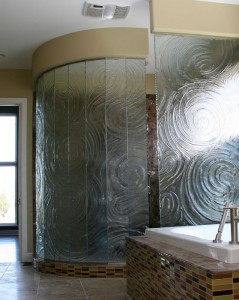 What is a Glazier and Where Can I Find One?
If you have ever marveled at the etched glass floor-to-ceiling windows at a particular business, the stained glass windows in a church, or even the patterned glass shower enclosure at a friend's home, you may be surprised to discover that one profession is responsible for creating these works of art. A glazier can help home- and business-owners create attractive glass works that meet their needs in terms of aesthetics, thermal qualities, and privacy.
What Does a Glazier Do?
A glazier is a person who manipulates glass for aesthetic and architectural effect. Their job at times may involve installing glass windows, doors, banisters, or wall partitions; designing glass installations; and lots of measuring and cutting of glass. They are also experts in the maintenance and repair of large and specialty glass items.
Glass is often very heavy, so it requires a professional with proper experience and skills to install it in a way that is durable and architecturally sound. Glaziers must make precise calculations when designing their installations to make sure they do not fail.
What Projects do Glaziers Handle?
There are several types of glass a glazier works with. Some of these include:
• Sheet glass—used in standard windows.
• Energy efficient glass—for the prevention of heat loss in a building.
• Decorative glass—with patterns throughout the glass to provide privacy.
• Wired glass—used to provide extra breakage protection.
• Glass bricks—used inside or outside of the home
• Safety glass—specially treated glass to avoid sharp edges if broken.
• Temperature resistant glass—combined with safety glass to create bath and shower doors.
These are just a few of the items a qualified glazier might work with. They have the equipment to assure that no matter what a glass project may entail, it will be constructed and installed efficiently and professionally.
Choosing a Glazier
Finding a qualified glazier for your project can take a bit of effort. Talk to friends, neighbors, or colleagues who have recently completed a custom glass project. Additionally, you can inquire at a local hardware store or building supply store. They often have lists of homebuilders and professionals who they recommend to their customers.
When attempting to find the best qualified glazier for your project, there are several factors that you should consider. These include:
• Professional training—Has this glazier trained with a well- established company? Is he a member of a trade association?
• Experience—Does this glazier have ample experience in this field? Is he a specialist in the area you require, such as patterned glass?
• References—Does this glazier have references from past customers? Can he provide photos of previous work?
• Materials used—Does this glazier provide the quality of glass you need for your project?
• Guarantee—Does this glazier guarantee the quality of his work?
• Cost—How much should you expect to pay for your project? Does this amount fit into you budget?
After considering these factors, choosing the right glazier for you project should be a little easier. Look at your budget and review your research into the various glaziers available to you. Choose the professional who you feel fits your needs while also fitting into your budget. In the end, you will have chosen the perfect glazier for your project.
Are you considering adding windows or glass doors to you home? Are you interested in creating decorative glass projects within your home? If so, look no further than Oasis Specialty Glass to make your vision become reality.